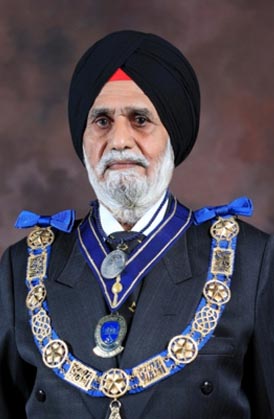 MW Bro Col Shamsher Singh Dhanoa OSM
Grand Master
WELCOME
I welcome you to the website of Grand Lodge of Upper India (herein abbreviated as GLUI).

Our Grand Lodge was established (consecrated) on 21st January 1995.

We are now in our 25th year.

Thus the Grand Lodge completes quarter century of service on 21st January 2020, which day will be gloriously celebrated as its Silver Jubilee.

The website is intended to present a complete coverage of its activities, achievements and all such related relevant details over these 25 years.
Initial Progress:- From the inception of the GLUI, the Founder team of Officers and members under the able guidance of the Founder GM, MW Bro. Dr. N. Vasishta had worked very enthusiastically and zealously to build up the GL by bits and pieces so as to make the GL fully functional in all respects in as short a period as feasible. It is pertinent to mention here that for the beautiful Masonic Temple of GLUI at Masonic Complex Daun (S A S Nagar), complete with elegant furniture and other inventory, full credit goes to (late) MW Bro. Iqbal Singh Ranauta. Our endeavour has been throughout to make the GL vibrant and progressive, and to keep it so, through constant all out efforts. The Motto of the GLUI has been "Aspire not what Freemasonry shall give you, but ponder what one can contribute to further the cause of Freemasonry."
In the present day society individualism predominates the spirit of togetherness and the divisive forces cause divisions among people on the basis of class, religion, culture and political polarizations etc. This schism is not only restricted to the groups of people, but it is spreading its tentaclesto the people of different Nations and even the continents. In this scenario the spiritual bond of Brotherhood and spirit of offering assistance to one's neighbour at the hour of need, among the members of the Freemasonry organizations, promoted since centuries and nurtured continuously, assume far more significance, to keep the people of the world united. Such are the peculiar noble precepts of Freemasonry and of Grand Lodges like ours alike.
Relationship with Grand Lodge of South India (GLSI):- We have a very cordial relationship with GLSI, established in 1995 at Coimbatore. Our two Grand Lodges have come together to form the United Grand Lodges of India, We are guided by the Grand Council of the United Grand Lodges. Six monthly co-ordination meetings of the Grand Council are regularly held on the Grand Annual Festival of respective Grand Lodges (GLUI in Dec. and GLSI in May). Both our Grand Lodges present a wonderful example of peaceful co-existence.

International Relationships:-During this glorious quarter century, the vibrant GLUI has established a good rapport with many international Grand Lodges by signing Treaties of Amity and Inter-visitations. Such Grand Lodges are Grand Lodge of France, National Grand Lodge of Portugal. Grand Lodge of Belgium, United Grand Lodge of Russia, G.L. of Bulgaria, G. L. of AASR Hungary, G.L. of Mexico REAA, Serenissima Grand Lodge of Italy, and the Sov. G.L. of Austria. More such Treaties are expected to be signed in future too.

First Grand Lodge of the World:-- Freemasonry is the largest and the oldest Fraternal organization in the world. (World Book, Encyclopedia, vol. 13). In the period 900- 1600 AD, some operative masons (stone workers) had formed their associations in Europe called Guilds. Over the period the Guilds had turned to be social societies which had started taking non operative masons as members and who were called speculative masons. Later such masons' organisations were referred to as Lodges. Four of such Lodges were united in 1717 AD to form the Grand Lodge of England, which is considered the beginning of the organized society of Freemasonry or the GLs. The estimated population of Freemasons in the world presently is 6 millions.

Precepts of Freemasonry :- Belief and Trust in God, brotherly love, charity, friendly relations with all. Freemasonry aims to improve morals of men in society and to inculcate in them obedience, courtesy and kindness. A Freemason is distinguished from the rest by the qualities of virtue, honour and mercy, which he practices. As an institute freemasonry is considered to be antient and honourable. Antient as it has subsisted from time immemorial and honourable , as it makes those so, who are obedient to its precepts. "No Institute can boast of a more solid Foundation than that on which Freemasonry rests - the practice of every moral and social Virtue." (From Text of Craft Ritual 1.)
Bienvenue sur le site de la Grande Loge de l'Inde du Nord. La Grande Loge fut établie il y a 21 ans c-à-d en Janvier 1995. Nous vous présentons notre traversé dans le temps de 1995 jusqu'en 2016 et espérons qu'elle va vous intéresser. Pendant cette période, nous avons établi des relations amicales avec plusieurs Grandes Loges du monde entier et nous avons signé des traités d'amitiés et d'inter visites avec les Grandes Loges d'Europe plus particulièrement avec la Grande Loge de France, La Grande Loge Nationale du Portugal, La Grande Loge de Belgique, La Grande Loge Unie de la Russie et la Grande Loge de Bulgarie avec qui nos relations sont très chaleureuses et cordiales.

Nous avons de très bonnes relations avec la Grande Loge de l'Inde du Sud, basée à Coimbatore et établie en 1995.

Croyance et confiance en Dieu, la charité, l'amour fraternel, des relations amicales avec tous, l'aide aux nécessiteux sont ce que nous chérissons. La franc-maçonnerie vise à améliorer la moralité des hommes dans la société et inculquer à leur fidélité, courtoisie et gentillesse. Un franc-maçon se distingue du reste par les qualités de la vertu, l'honneur et la miséricorde qu'il pratique.

C'est mon souhait de voir la franc-maçonnerie dans le monde s'unir sur ces principes comme une fraternité des hommes avec un but commun qui est la fraternité universelle. Cela renforcera notre noble Institution et va promouvoir la paix mondiale. Nous avons toujours étendu notre main de l'amitié à tous les francs-maçons et toutes les Grandes Loges dans le monde et nous continuerons à le faire.