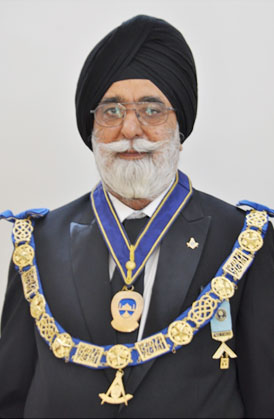 MW Bro. Balbir Singh Devgun, OSM
WELCOME
Welcome to the website of Grand Lodge of Upper India. The Grand Lodge was established 21 years back in January 1995. We present our journey from 1995 to 2016, and hope it will interest you. During this time we have established friendly relations with many Grand Lodges around the world and signed treaties of Friendship and Inter-visitations with Grand Lodges in Europe; particularly the Grand Lodge of France, National Grand Lodge of Portugal, Grand Lodge of Belgium, United Grand Lodge of Russia and Grand Lodge of Bulgaria with whom our relations are most warm, and cordial.
Belief and trust in God, brotherly love, charity, friendly relations with all, providing assistance to the needy is what we cherish. Freemasonry aims to Improve morals of men in society and inculcate in them obedience, courtesy and kindness. A Freemason is distinguished from the rest by the qualities of Virtue, Honour and Mercy which he practices.
I would like to see freemasonry in the world united on these principles as a brotherhood of man with a common goal of universal friendship. This will strengthen our noble Institution and promote world peace. We have always extended our hand of friendship to all freemasons and all Grand Lodges in the world, and will ever continue to do so.